HANOI
PERFORMANCE
Art programmes celebrate New Year 2019
On the evening of December 31
Destinations around capital city
A wide variety of unique art programmes will be staged to salute New Year 2019. Notably, a Countdown Party will take place at the Ly Thai To Flower Garden with the participation of special characters, such as Vietnam national football team's players and Miss Universe Vietnam 2017 H'Hen Nie.
Subscription Concert Vol.117: "Brahms Cycle"
8pm on January 9
Hanoi Opera House
Subscription Concert Vol.117 "Brahms Cycle" features the performance of conductor Honna Tetsuji, violin soloist Do Phuong Nhi and the Vietnam National Symphony Orchestra.
Ticket: VND500,000 – VND350,000 – VND200,000
Le Chanffage Concert
8pm on January 5
Vietnam National Academy of Music
The concert features the participation of pianist Tran Le Bao Quyen, violist Le Quang Tien and MC Phan Ngoc Ha My.
The artists perform compositions for piano and violin from Chopin, Beethoven, Prokofiev, Wieniawski and Elgar.
Ticket: VND500 - VND300,000
EXHIBITION
Photo Exhibition "Vietnam Pagodas" by Nicolas Cornet
L'Espace
24 Trang Tien Street, Hoan Kiem district
The exhibition displays nearly 50 photo capturing Vietnamese pagodas through the lense of French photographer Nicolas Cornet.
The photos feature popular pagodas across Vietnam, including Tran Quoc and Mot Cot pagodas in Hanoi, But Thap pagoda (Bac Ninh province), Pho Minh pagoda (Nam Dinh Province), and Keo pagoda (Thai Binh province), among others.
The exhibits were selected from Nicolas's 250-page photo book highlighting the most beautiful details in architecture, decorative motifs and the daily life of Vietnamese pagodas and Buddhist temples.
Photo Exhibition "France eMotion"
L'Espace
24 Trang Tien Street, Hoan Kiem District,
It is an exceptional exhibition by four international photographers from four different continents, including David Schalliol, Ishola Akpo, Edu Monteiro & Lourdes Segade.
Thanks to an augmented reality mobile app, the viewers can follow the adventures of an imaginary character through the photographs and thus discover the tremendous richness of French heritage.
HO CHI MINH CITY
PERFORMANCE
Countdown Party on Nguyen Hue Walking Street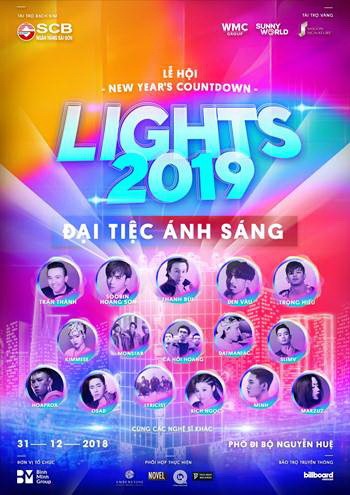 8pm on December 31
The New Year Countdown party features the participation of well-known artists such as Thanh Bui, Osad, Soobin Hoang Son and Trong Hieu.
A O Show by Lune Production
Ho Chi Minh City Opera House
7 Cong Truong Lam Son, Ben Nghe Ward, District 1
The A O Show features optical illusions and impressive acrobatics, paired with traditional music performances by a troupe of talented local artists.
Known as the Cirque du Soleil of Vietnam (minus the flashy outfits), this live show depicts the transition of rural Vietnam into today's modern landscape, using props such as giant woven baskets, scaffolding, bamboo canes, and ropes.
Price range: VND630,000 - VND1,470,000
EXHIBITION
Exhibition "Instability" by Truong The Linh
Craig Thomas Gallery
27i Tran Nhat Duat Street, Tan Dinh Ward, District 1
You are invited to the exhibition "Instability", a solo exhibition of paintings by Hue-based artist Truong The Linh.
Linh's paintings arguably focus just as much on the medium of paint, and how it reacts on the surface of his canvases, as they do on the subjects of the paintings. In his new collection of works, the artist continues to explore the sensuous realm of paint, skin and figuration seen in his earlier paintings.
Exhibition "an everyday day" by Nguyen Quang Huy
Galerie Quynh
118 Nguyen Van Thu, Dakao, District 1
You are invited to "an everyday day" – a solo exhibition of new work by Hanoi-based artist Nguyen Quang Huy. Considered one of Vietnam's pioneering artists following the Doi Moi reforms initiated in 1986 (a period of economic liberalisation marked by increased artistic experimentation), Quang Huy will be showing a suite of oil paintings depicting Hmong women and misty mountain scenes created with hazy brushworks in his distinctive muted palette of blue-grey grisaille.