HANOI
PERFORMANCE
JF Garage Concert 19: The Harmony of Tradition
3 PM, January 13
Japan Foundation Centre for Cultural Exchange in Vietnam
27 Quang Trung street, Hoan Kiem district
Come to enjoy a concert featuring traditional Japanese instruments – Shakuhachi (a type of flute made of bamboo) and Shamisen (a three-stringed instrument) through performances of two Japanese artists Kimihiro Kitamura and KIJU
Free ticket distribution [2 tickets maximum per person] from 12:00, January 8, at The Japan Foundation. Opening hours: 09:00 – 18:00 (Sundays closed)
Vietnam Junior Ballet Gala: "Sleeping Beauty"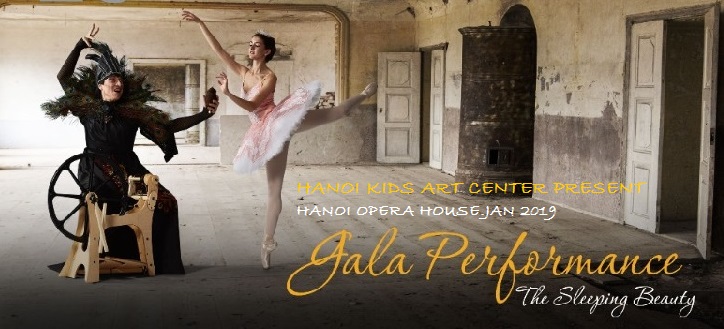 7.30 – 10 pm, January 13
Hanoi Opera House
1 Trang Tien street, Hoan Kiem district
The Vietnam Junior Ballet Gala: The "Sleeping Beauty" is a special art event on the threshold of the New Year, gathering nearly 130 kid dancers and 300 kid models.
Particularly, all ballet costumes will be completely new designs according to the ballet standards and the stage will be ornately decorated in Vietnam.
Project Director: Meritorious Artist Dam Han Giang
General Director / Choreographer: Meritorious Artist Dam Han Giang.
Production Director / Costume Designer: Fashion designer Pham Ngoc
Director of Photography: Tarah Vu Art
Main actors and actresses: Kid dancers of Hanoi Kids' Art Centre and other kid dancers selected nationally.
Tickets: VND700,000 – VND 1 million – VND1.5 million
EXHIBITION
Photo Exhibition "France eMotion"
L'Espace
24 Trang Tien Street, Hoan Kiem District
It is an exceptional exhibition by four international photographers from four different continents, including David Schalliol, Ishola Akpo, Edu Monteiro & Lourdes Segade.
Thanks to an augmented reality mobile app, the viewers can follow the adventures of an imaginary character through the photographs and thus discover the tremendous richness of French heritage.
Exhibitions: "Bicycles" by Thu Van Tran and "Ellipses" by Ha Manh Thang
Vincom Centre for Contemporary Art (VCCA)
B1 – R3, Vincom Mega Mall Royal City
72A Nguyen Trai street, Thanh Xuan District
"Bicycles" is Thu Van Tran's first solo installation exhibition in Vietnam, marking a milestone for the artist's participation and involvement in the art scene in her home country. The exhibition was inspired by a memorable song from the artist's childhood, with symbolic local media (rubber bands, sails, ceramics).
"Ellipses" is a solo exhibition presenting new works of Ha Manh Thang, one of the most prominent faces of the Vietnamese art scene, of abstract expressionist art language and installation art. Thang's works have the sophistication of Western modern art, yet still hold in them an Asian spirit, reminding us of the past and the regret for what is lost.
HO CHI MINH CITY
PERFORMANCE
Gala Rock Symphony 2019
8 pm, January 9
HCMC Opera House
No. 7 Lam Son Square, District 1
Tickets: VND200,000 - VND 650,000 - VND 80.000 (for students, limited offer)
You are invited to a special concert where a symphony orchestra mimics a rock band by Ho Chi Minh City Ballet Symphony Orchestra and Opera's choir and orchestra.
A O Show by Lune Production
6:00 pm, January 7 and 8
Ho Chi Minh City Opera House
7 Cong Truong Lam Son, Ben Nghe Ward, District 1
The A O Show features optical illusions and impressive acrobatics, paired with traditional music performances by a troupe of talented local artists.
Known as the Cirque du Soleil of Vietnam (minus the flashy outfits), this live show depicts the transition of rural Vietnam into today's modern landscape, using props such as giant woven baskets, scaffolding, bamboo canes, and ropes.
Price range: VND630,000 - VND1,470,000
EXHIBITION
Exhibition "Instability" by Truong The Linh
Craig Thomas Gallery
27i Tran Nhat Duat Street, Tan Dinh Ward, District 1
You are invited to the exhibition "Instability", a solo exhibition of paintings by Hue-based artist Truong The Linh.
Linh's paintings arguably focus just as much on the medium of paint, and how it reacts on the surface of his canvases, as they do on the subjects of the paintings. In his new collection of works, the artist continues to explore the sensuous realm of paint, skin and figuration seen in his earlier paintings.
Exhibition "an everyday day" by Nguyen Quang Huy
Galerie Quynh
118 Nguyen Van Thu, Dakao, District 1
You are invited to "an everyday day" – a solo exhibition of new work by Hanoi-based artist Nguyen Quang Huy. Considered one of Vietnam's pioneering artists following the Doi Moi reforms initiated in 1986 (a period of economic liberalisation marked by increased artistic experimentation), Quang Huy will be showing a suite of oil paintings depicting Hmong women and misty mountain scenes created with hazy brushworks in his distinctive muted palette of blue-grey grisaille.