The love story in Lang Biang
There is a restaurant named K'Be Wood Fired Pizza in the Co Ho ethnic minority people's village at the foot of Lang Biang mountain in Lac Duong district, Lam Dong province. After a few calls by a girl with an angel-like face, a middle-aged man in the style of a Western-American cowboy appeared. He is the girl's father, James Reelick, one of foreigners who came to Lang Biang and loved this land. James and his Vietnamese wife are founders of the restaurant, whose name is the combination of Co Ho and western cultures. They had a fateful meeting when they were climbing this legendary mountain.
James Reelick (left) and his Co Ho friend in front of the pizza oven. (Photo: NDO)
James was born and raised in Connecticut, the United States. After graduating from a university majoring in plants, he worked for his family's company specialising in planting trees and flowers. He then studied the construction field and worked for a real estate company. With a passion for climbing, James traveled many countries, including Vietnam in 2007. The mountains, people, culture and cuisine of Lang Biang plateau held his feet. He said that the people here are very friendly, the cuisine is unique, ruou can (wine stored in a big jar and drunk with long bamboo straws) is delicious and the sound of gongs is charming; especially, the mountain peaks are like floating in the clouds.
In 2012, James was no longer alone climbing Lang Biang mountain. On the night of the full moon, he met and fell in love with his wife, Nguyen Thi Lien. She is the special reason James has such a strong attachment to this land. Their lovely daughter, Reelick Nguyen Ann Trung, is just six years old.
Deciding to choose the village at the foot of Lang Biang mountain as his second hometown, James did many jobs. Finally, the unique grilled dishes of Co Ho people reminded him of the pizza oven that he knew during his journey to the peaks in the US. Therefore, the K'Be Wood Fired Pizza restaurant was formed. According to James, 'K' is often attached before the name of the Co Ho people, while foreigners often use 'Be' to refer to grilled meats in Vietnam. To accommodate the native inhabitants, pizza at the restaurant is made from familiar ingredients of the Lang Biang Plateau. They are famous throughout the region and have become attractive dishes for visitors to this land.
The 'pillow' supporting dreams
"Your hands not only are for speaking in sign language but also can do more things", teacher Choi Young Sook shared with students in Lam Dong School for the Hearing-Impaired through the 'special language'. Indeed, the hands of the children can embroider flowers, draw paintings and play the piano.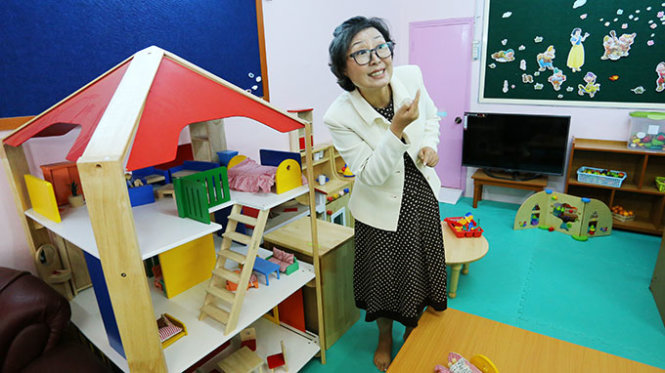 Dr. Choi Young Sook (Photo: tuoitre.vn)
Dr. Choi Young Sook and her husband, Kwon Jang Soo, from the Republic of Korea (RoK) officially 'migrated' to this plateau in 2011. They stayed this land to fulfill their wish to support unlucky children here. "In 2010, I applied for early retirement at the school that I was working in. I prepared all the essentials within one year and moved to Da Lat in March 2011", said Choi.
At first, few people believed in Choi's teaching method. Many teachers thought that she would only stay for two or three years, and then the new teaching method would be left. However, seven years passed and teacher Choi is still there and is considered as a 'pillow' supporting the dreams of unlucky people.
The children from the Lam Dong School for the Hearing Impaired have forgotten their timidness when going to school. They studied according to Choi's new methods. The learning time is also play time, combining painting, music and language; the classes are always full of laughter.
Over the past seven years, Choi and her husband have come to many difficult areas in the countryside of this plateau. The limpid eyes of children haunted them. They began calling for their friends and benefactors to support living expenses and tuition fees for poor students and those with disabilities. She shared: "We always wish that students with disabilities also receive a full education".
Spreading the flavour of coffee in the motherland
Memories of peaceful countryside houses neatly located at the foot of the mountain and the rustic life of indigenous people form his mother's stories led French-born Pierre Morère to Lang Biang plateau.
Thanks to his mother's words and documents and memories that he compiled, Pierre affirmed that Da Lat is the hometown of his mother, Tecla Faraut. His grandfather, Ferme Faraut, owned a big farm in this land at the begining of the last century. "In 1999, I returned to Vietnam as a tourist and visited my mother's hometown", he said.
After the fateful trip, Pierre decided to sell his flourishing real estate company in France and return to Lang Biang with the determination to restore the variety of Bourbon coffee that his family developed hundreds of years ago. He tried to study and make contact with people who worked with his grandfather at a farm along the Tia stream in the old days. Pierre has naturally become a resident of Da Sar village. Ha Doi, the village patriarch of the Co Ho ethnic minority group, still remembers the house of Pierre's grandfather along Da Tria spring. He said: "Mr and Mrs Faraut spoke Vietnamese very fluently and were very close to other people. He built a big and beautiful house full of conveniences of that time, helping the workers live comfortably."
Pierre is always proud to introduce the precious documents and photos about his family in association with coffee trees in Lang Biang plateau. At the end of the 19th century, the Faraut and Morère families came to this land. The development of the Bourbon Pointu Leroy Morère Coffee variety was the result of years of hard work. Over the past ten years, Pierre has dedicated himself to developing a family coffee brand, a luxury product for coffee lovers, with a great respect for traditional values.
The brand of Bourbon Pointu Leroy Morère Coffee has been promoted to many domestic and international markets. Pierre shared that "the coffee will attach my life and family to this land and people". "Many asked me whether I miss life in Paris. I have found that life here is very interesting and I am here to make coffee with locals until the end of my life", he added.